The BFDG / British Film Designers Guild launched the first of a series of 'Design Forum' webinars via Zoom last Thursday 23 April as a way to engage with their membership during lockdown and as well as reaching out to a wider audience, via a live stream on YouTube, who are interested to learn about the Film or Television Art Department.
The first BFDG Design Forum consisted of a panel made up of Production Designers, a Set Decorator and a Supervising Art Director who answered questions that BFDG members had sent in.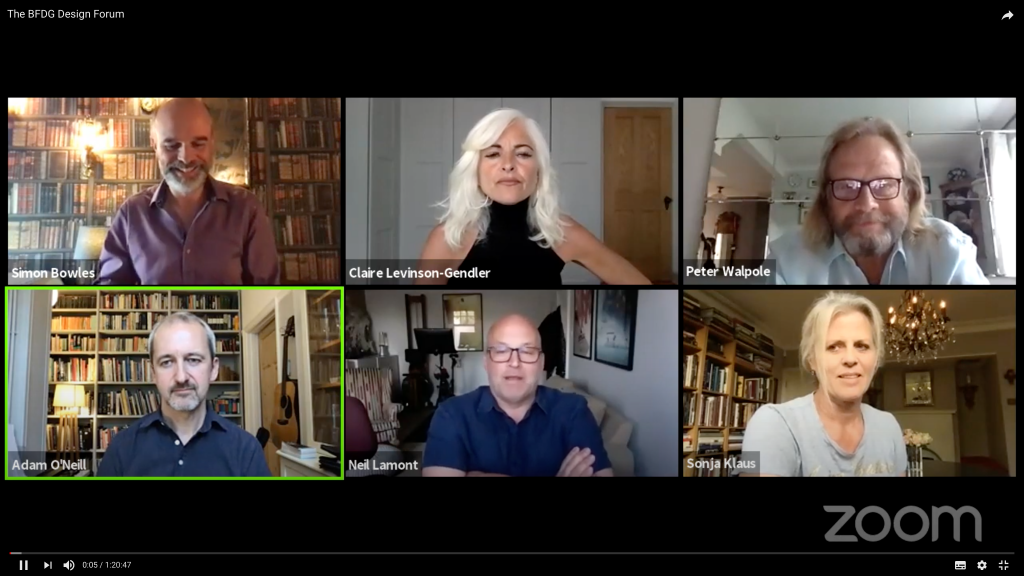 The Forum panel was be hosted by Sonja Klaus / Production Designer (Taboo, A Christmas Carol, Terminator: Dark Fate) who will be joined by:
Adam O'Neill / Supervising Art Director (The Borgias, Fortitude, Pennyworth, Prometheus)
Claire Levinson-Gendler /- Set Decorator (Broadchurch, Vanity Fair, Chernobyl)
Neil Lamont – Production Designer (Rogue One: A Star Wars Story, Solo: A Star Wars Story, Fantastic Beasts)
Peter Walpole / Production Designer (Sense8, The Matrix 4)
Simon Bowles / Production Designer (Hyde Park on Hudson, Johnny English Strikes Again, Avenue 5)
Questions covered a range of subjects from the challenges a Production Designer faces during the design process, budgeting, using software in the Art Department to the one piece of kit the panel would not be without.
Following the great success of the webinar, which has had over 1000 views on YouTube as well as extremely positive feedback from members, the BFDG will be launching a series of 'Design Forums' to be run via Zoom on a weekly basis, as well as being live streamed on YouTube. To watch the first 'Design Forum' click here.